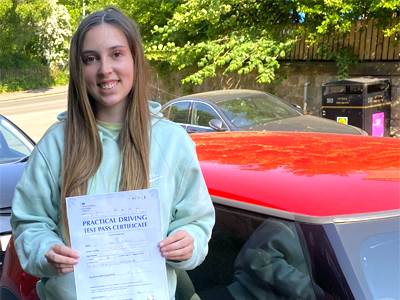 Georgie
Learning with David has been an amazing experience. Each lesson was a joy and always very beneficial. During each lesson an improvement was made in a step in the right direction as my confidence grew and grew. David was always very helpful in areas I found more challenging and found ways in which I can overcome these challenges in methods tailored to me which put me at ease. David at LDC taught with excellent teaching methods which made the experience very enjoyable. I recommend David to anyone learning to drive. His fun, friendly and professional manner made the experience very positive and I wouldn't have passed without him with only one minor.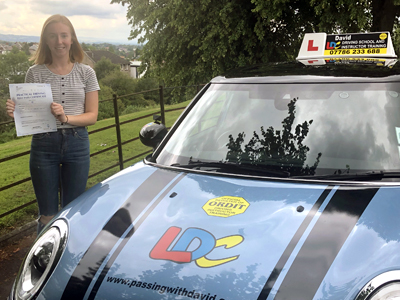 Morag Ross
David was a really great driving instructor and he helped me to pass my test first time! He taught me using the LDC system, this meant I could tailor each lesson to my own goals and I was able to set my own learning pace. He was also very patient with me which made me feel comfortable when learning new things. Overall I would highly recommend him as a driving instructor.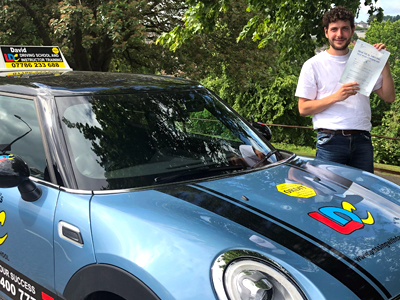 Robert Nelson
Passed 1st time
David has been an excellent instructor and helped me to pass first time! I wouldn't hesitate to recommend him to any new drivers. David's approach to teaching is fantastic, partially due to the LDC system. From day 1 till my test David helped me to tailor each individual lesson towards my own areas of concern, allowing me to spot areas for improvement at the start and end of every lesson. David's consistently calm and reassuring teaching approach has helped me to become a responsible and rational driver and I feel confident that I have learned to drive and not just pass a test.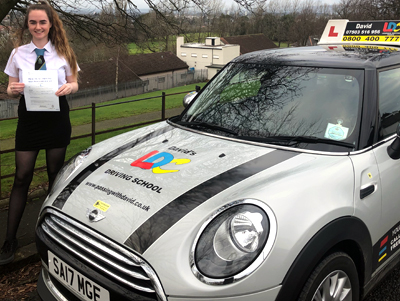 Olivia Frame
Passed 1st time
I found David to be an amazing instructor. David was so encouraging and patient. He helped me gain confidence in my driving ability by letting me guide each session. I found this to be beneficial as I could move at my own pace and it allowed me to work on things I was less confident in. The support I received from David helped me to pass first time! Thanks so much.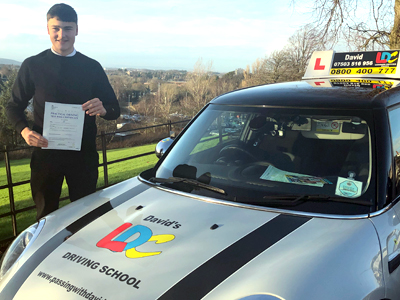 Calum Young
Learning with David was a lot easier than I had expected driving to be. His laid back approach and the way he breaks a lot of challenging things down is very helpful. All of the lessons were focused on what I wanted to do that day, helping me improve my confidence while driving. David made me feel relaxed and comfortable even when I made mistakes, making driving seem far less daunting.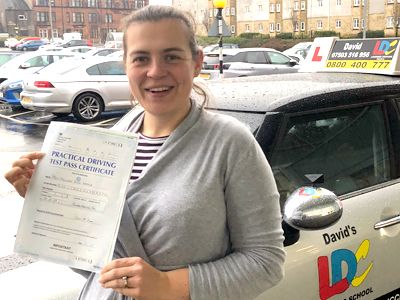 Mellissa Woolley
I had had lessons many years ago whilst living in Winchester Hampshire and had failed on 3 occasions at which point life took over and driving went to the back of mind. Fast forward 12 years and it became a priority. I wanted to learn to drive for the freedom and convenience it would give me.
I was given David's number through a family member, he had taught her and she passed first time and as she was a nervous driver I thought he'd be the best instructor for me. I was extremely nervous the first lesson but David put my mind and my nervous at rest and by the end of the lesson I wanted to drive some more. Throughout my lessons, my nervous and self doubt kept rearing their ugly heads; I've always had a problem with my self confidence or lack thereof, however David consistently helped me through my nerves and made me see that I am a good driver and that there was no reason for me not to pass my test. He helped me find my confidence for my theory test which I passed so I should have known then that he wouldnt steer me wrong for my practical. Thought my lessons David had this way of getting me to look at my own driving to assess my own skills to learn from mistakes so that I had the ability to make good judgements when out driving in my own, rather than relying on someone else to tell me what I needed to improve on. I feel that this method of teaching has given me the foundation to build upon as I continue to learn to drive through the my life. You can never stop learning. My skills will improve because I have the ability to reflect on my driving with every journey I take.
When it came to my actual driving test, I was a wreck before I got in the car. The traffic was horrible, thought we'd be late, the weather was terrible (wind, heavy rain and some roads that were more water than road) but once in the car, David helped me calm down so that by the time I came to take my test I was just about ok. It's the quickest 40 mins ever. I got to the end thinking I'd failed because of some stupid mistake, but I was told "congratulations you have passed"! I was emotional and David was there beaming because he knew I could do it. Throughout the whole process he always made me feel like I could do it, he never once made me feel like I couldn't and on those days where my doubt was there, he talked to me and helped me get passed it. I would recommend David as an instructor because he knows how to teach someone to drive, not to just pass their test. He sets you up to drive safely for the rest of your driving days and he helps you when you feel self doubt or your confidence is low. I only passed last week but I know I can drive and I love it. It was the best decision I made and David was the best instructor for me. So David, thank you for all of your time, patience and understanding. If it wasn't for you, I wouldn't be the confident driver I am now.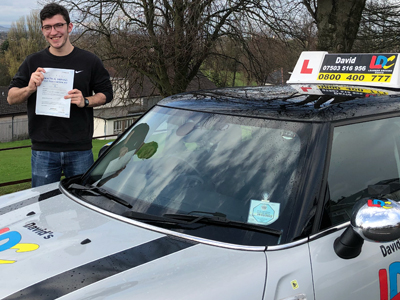 Stuart Nelson
Learning with David has been an absolute pleasure. He is very professional and knowledgeable, but also very friendly so I have always felt at ease when driving with him. LDC is an agency with high standards for teaching so you know you will be in good hands. Learning always went at a pace that I was comfortable with, and each lesson felt like a step forward so at every stage I was happy with the results. I would highly recommend David and the LDC learning system to anyone considering driving lessons.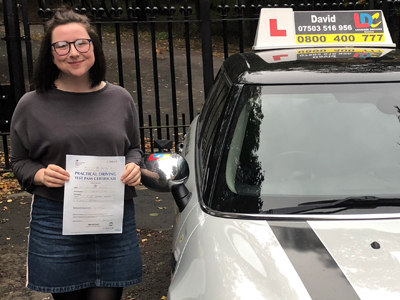 Ceri
I started learning with David in June and passed my test yesterday morning, only three months later with just three minors. I absolutely couldn't have done that with any other instructor. I've attempted lessons twice before with different instructors but each time I just didn't enjoy learning to drive. I was also involved in a bad crash a number of years ago and that really affected me as a passenger, so for a long time I had completely written off any hope of learning to drive. That's totally changed, I looked forward to each lesson and David helped me identify those 'lightbulb' moments when things started to click. He encouraged me to reflect on my progress and by doing that I was easily able to see the change in my ability and confidence throughout.
Something that I loved about my lessons was that from the beginning he makes it clear that he is teaching you to be a driver, not to pass a test. I chose to sit my test in Bishopbriggs, but I live in the Southside of Glasgow so I had very little practice in the area before sitting my test. I felt a bit anxious about this but then I had a lesson when I drove around an area that was completely new to me, and drove better than I ever had before. This was when I realised I wasn't really a learner anymore, I was a driver and I decided there and then that I was going to pass my test. So I did.
The LDC client-centred method coupled with David's patience and genuine passion for what he does, has taught me to be a safe, calm, confident driver - something I never thought I'd be! I would recommend everyone to learn to drive with David. He is professional, reliable, friendly, knowledgable, and he keeps his car in excellent condition (in spite of learners like me crunching gears!).
Huge thanks to David and LDC!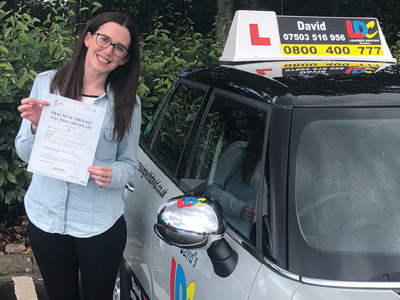 Donna Miller
I would like to thank David doughty for teaching me to drive using the LDC system. I had no previous experience driving, he taught me how to drive and gain the confidence to do so safely. He encouraged me every step of the way and was always patient, he provided me with the LDC workbook which was extremely helpful in my course of learning. I would recommend David as an instructor to anyone wanting to learn to drive, and the LDC system is a fantastic way of learning. 10/10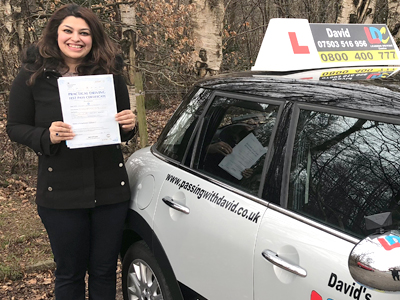 Colleen Gomez
I passed my Driving Test in Mar 2018, and for this, I am grateful to David for his expert guidance! When I started my lessons with David, I could already drive, having driven in India for many years. However, years of driving in an unruly fashion took its toll, and rendered me unable to navigate UK driving rules David therefore had the very challenging task of helping me unlearn my bad driving habits and to start paying close attention to the UK Highway Code, which is easier said than done. What I loved about his style of instruction, was that he very patiently encouraged me to think about everything I did, and explained in great detail why it was good or bad - sometimes more than once, until everything sunk in. With the right driving skills now engrained in me, it was impossible to fail! I've recommended David highly to all my friends, and have no doubt he'll help others achieve success!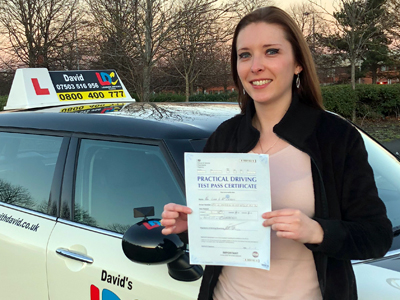 Liana McLachlan
Having taken driving lessons and failed my test once about 10 years ago, I decided that it was finally time to get back in the driving seat and get my licence. I looked up driving schools on the internet and straight away LDC's unique learning system appealed as I liked the idea of being prepared for and being able to tailor each lesson in order to spend more time driving and practising during the lesson itself. I decided to go for a semi intensive course given my prior experience and to suit my working hours. My instructor David was patient and knowledgeable and helped me every step of the way. He was also very flexible when it came to organising lesson times and when I had to postpone some lessons due to personal circumstances. I'm so pleased to say that I passed my test first time under David and the LDC systems' tuition. Thanks for all your help David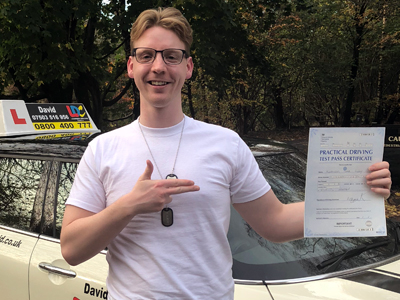 Alex Finlay
Passed 1st time
I would like to start by stating I am not a natural driver, nor do I possess any special talent. I had no confidence, would panic and had a bad memory that made acquiring new skills difficult. David Turned me from an anxious learner, with shaking legs, mashing on the pedals and sawing at the wheel into a disciplined, precise driver with a silk smooth style. With David's help I passed 1st time at Shieldhall - hardest place to pass the test in Scotland.
If you want to pass your driving test you need to affiliate yourself with someone like David, that is trustworthy, professional, relaxed, understanding and patient. David provided me with the tools/ formula to navigate complex situations for my driving style to solve the problems that I faced instead of a cookie cutter style that dictates this is the only way to do it. This was very beneficial during the test as I encountered scenarios that you just cannot practice.
David provided a learning environment that was supportive and specifically tailored to my needs. David focuses 100% on the solution to help you achieve your goal instead of lecturing you on your mistakes. His explanations and communication are simple concise and easy to understand.
The LDC system focuses on ability to control the car first so that it's as easy as tying your shoe, freeing up your mind to focus on hazard perception, awareness and planning. During the course of the week we covered: all the manoeuvres, turning left/right, hazard perception drill (MSM), junctions, roundabouts, crossroads, traffic signals/crossings, busy roads, dual carriageways etc. We also had discussions on nerves/fear, how it was natural, how to acknowledge and harness that energy.
David always showed up on time with the car immaculate. I've got long legs at 6'2" and felt like the car was made for me, with all the adjustments on the seat etc. This really helped my control of the pedals. The electronic handbrake also made roundabouts/junctions so much easier. I'd imagine this would be beneficial for someone without a lot of upper body strength. The automatic restart also makes stalling less stressful, just depress the clutch and the car restarts. Because the lights/windscreen wipers are automatic I didn't have to faff around with them on my test. You will also have a good view within the car with lots of reference points for manoeuvres/road position. I got the Parallel park as well as the bay park in my test-aced both using David's advice.
I was Nervous before my test but all that vanished and my training took over. When the examiner told me the independent driving route I would be taking, I had to stop from giggling. David had a feeling that I would be taken on that route and we had practiced it the night before.
I don't know if it was possible but David's smile seemed bigger than mine when I was told I had passed. He seemed genuinely happy for me.
Thank you, David, !!!!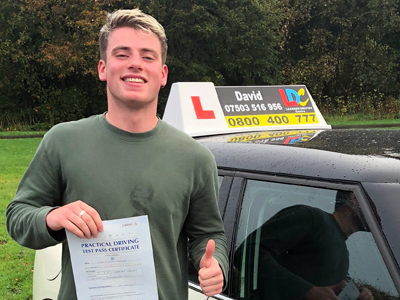 Sean Clarke
David from the LDC Driving school was professional and patient throughout the whole of my driving course. This kept me calm during difficult situations while still being able to enjoy each lesson through his rewarding and positive attitude.